A sense of purpose is an amazing thing, and it can yield unexpected rewards
Welcome
This website is about remembering Sue Fear, an Australian high-altitude climber and adventurer.
Here is information about her achievements and the charities she worked with to help improve the lives of people in the developed countries she travelled in.
For those that came in contact with her, whether it was on one of her guided treks or climbs, or listening to one of her public talks, were inspired and motivated by her determination and passion for life and adventure travel.
In 2006, Sue was one of only ten women to have climbed five of the world's 8000-metre mountains and the first Australian woman to climb Mt Everest via the technically difficult north face which made her Australia's leading female high-altitude climber, in a field that was mostly male dominated.
Sue became an Ambassador for the Fred Hollows and the Australia Himalayan Foundations as well as a mentor with NSW Womensport. She was invited to talk at many schools during her career which influenced the students outlook in such a positive way.
She also spent a great deal of her time in the Himalayan mountains of Nepal, a country she was very fond of. Sue passed away in May 2006 while descending Nepal's Mt Manaslu after reaching the summit.
Please visit the comments section above to leave any messages, share some of your experiences with Sue or your thoughts on her book 'Fear No Boundary' – One Woman's Amazing Journey, written by Lincoln Hall. Links to purchase the hardcopy or download the digital version are below.
Summit History
February 1987
June 1997
September 1998
May 2002
May 2003
July 2004
May 2006








Mt Kilimanjaro
Tanzania (5895m)
Sue's first climb at high-altitude.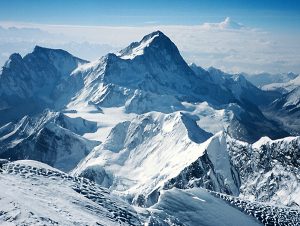 Makalu II
Kangchungtse, Himalayas (7678m)
Leader of small independent team of 4, (1 evacuation) and with climb sherpa Nima Tamang. First successful Australian ascent of the mountain, a satellite peak of Makalu I.

Mt Cho Oyu
Nepalese/Tibetan border, Himalayas (8188m)
The 6th highest mountain in the world. Successful ascent with Nepali partner Nima Tamang in lightweight, self-reliant style without bottled oxygen. First ascent by an Australian women.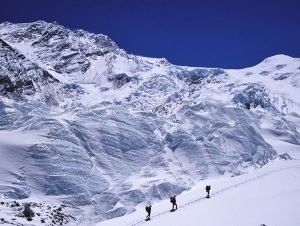 Shishapangma
Tibetan plateau, Himalayas (8027m)
After a cancelled first attempt in 2000 due to altitude sickness of party members, Sue successfully summited on the 15th of May, this time by lightweight style with base camp support only.

Mt Everest
Nepalese/Tibetan border, Himalayas (8848m)
Joining Russell Bryce's expedition Sue Summited Mt Everest on the 31 May. she became 2nd Australian woman to climb Mt Everest, the 1st Australian Born female and 1st Australian female to climb from the North face.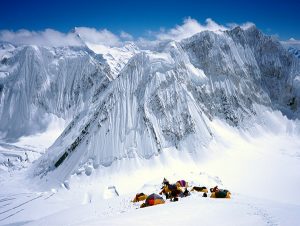 Gasherbrum II
Pakistan (8000m)
Sue was offered to lead a group to climb Gasherbrum II in Pakistan after a guide had pulled out. She successfully summited it in April.

Mt Manaslu

Nepalese, Himalayas (8163m)
The 8th highest mountain in the world. Sue summited Mt Manaslu on the 28th May with Sherpa Bishnu Norung. On decent at approximately 7800m Sue fell into an unknown crevasse.
2GB Interview with John Laws
After Sue's conquest of Mount Everest
Read the story
One woman's
amazing journey
Fear No Boundary chronicles the incredible journey Sue Fear took on her path to Everest, following her decision to make travel and adventure-guiding her profession. While Sue's celebration of her fortieth birthday on top of Mount Everest in May 2003 and the nail-biting climb from Base Camp to the summit provides a framework, this updated edition also details Sue's other climbing achievements and includes a postscript outlining her final expedition.
Climbing is a bit like rolling a dice – sometimes things fall into place and you achieve your aim. Sometimes your number comes up.
Sue Fear was inspirational. She was a vibrant personality, a mountaineer, a tireless worker for various charities and youth, and a good friend to many.